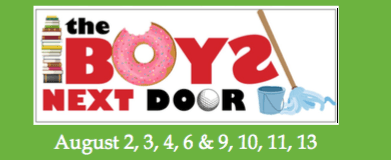 Act Two Theatre announces Open Auditions for:
The Boys Next Door
Directed by: Jeff David
Act Two Theatre is proud to announce the cast of The Boys Next Door. This funny, touching and relevant show is directed by Jeff David and opens August 2.
Arnold – Aaron Mermelstein
Norman – William Blanke Jr.
Lucien – Erick Lindsey
Barry – Joshua Mundschenk
Jack – Hayden Hays
Sheila – Laura Deveney
Mr. Klemper – Kurt Knoedelseder
Mrs. Warren/Mrs. Fremus/Clara – Gabrielle Rivera
Mr. Hedges/Mr. Corbin/Senator Clarke – Tim Naegelin
AUDITIONS:
Thursday, May 18 at 7pm and Sunday, May 21 at 1pm. No appointments.
On Thursday, May 18, please arrive at 7pm, preferably, but no later than 8pm.
On Sunday, May 21,  please arrive by 1pm, preferably, but no later than 2pm.
Callbacks by invitation.
All parts available. 7 Men, 2 Women.  Open Call.
AUDITIONS
• You may choose to present a 1-2 minute monologue (optional) and/or cold readings from the script.
•Complete the Audition Form IN ADVANCE.  This will allow you to focus on your audition and eliminate distractions and delays. Bring this with you to your audition.  Do not send it in.  DOWNLOAD AUDITION FORM
• Bring your acting resume, if available, and headshot(preferred but not required).
8 Performance dates are August 2, 3, 4, 6, 9, 10, 11, 13.
Evening shows begin at 7:30 pm. Sunday Matinees begin at 2pm.
Rehearsals leading up to tech week are Sunday afternoons and Tuesday & Thursday nights.
Show Description:
The place is a communal residence in a New England city, where four mentally handicapped men live under the supervision of an earnest, but increasingly "burned out" young social worker named Jack. Norman, who works in a doughnut shop and is unable to resist the lure of the sweet pastries, takes great pride in the huge bundle of keys that dangles from his waist; Lucien P. Smith has the mind of a five-year-old but imagines that he is able to read and comprehend the weighty books he lugs about; Arnold, the ringleader of the group, is a hyperactive, compulsive chatterer, who suffers from deep-seated insecurities and a persecution complex; while Barry, a brilliant schizophrenic who is devastated by the unfeeling rejection of his brutal father, fantasizes that he is a golf pro. Mingled with scenes from the daily lives of these four, where "little things" sometimes become momentous (and often very funny), are moments of great poignancy when, with touching effectiveness, we are reminded that the handicapped, like the rest of us, want only to love and laugh and find some meaning and purpose in the brief time that they, like their more fortunate brothers, are allotted on this earth.
Brief Character Description:
Arnold Wiggins is a man who lives with a mild mental disability who works at a movie theater as a janitor. He tends to be very obsessive compulsive. He is hyperactive and talks constantly. He's also often abused by coworkers and afraid to fight back. When he becomes angry or scared, Wiggins repeats the word 'nyеt', meaning no in Russian, and threatens to run away to Russia.
Norman Bulansky is a middle-aged man with mental disabilities who works at a doughnut shop. Eating doughnuts at his job has caused him to become overweight. His girlfriend, Sheila, lives at another group home. Bulansky is very proud and possessive of a large ring of keys.
Lucien P. Smith is a large African-American man who faces extremely debilitating mental disorders. Despite the fact that he cannot read, Smith insists on checking out armloads of books from the library. He is at risk of losing his disability funds, when the state senate accuses him of faking his mental condition. Smith doesn't understand what is around him when he goes to the "State Sneck" resulting in a profound scene.
Barry Klemper is a 28-year-old man with schizophrenia who believes he is a pro golfer. He gets highly agitated over small things. This is partly because Barry has had a traumatic life growing up. Later in the story, when Klemper's abusive father visits him for the first time in years, it proves harmful to his mental condition.
Jack Palmer is the social worker for the four handicapped men. He's found himself increasingly burned out and is thinking about a new line of work. At the end of the play, Palmer leaves the men and becomes a travel agent.
Sheila is Norman's girlfriend. Like Norman, she faces mental disabilities. She is also obsessed with Norman's prized keys and is "no skinny minnie herself".
Mr. Klemper is Barry's abusive father. During the course of play, he decides to visit Barry while in the Boston area.
Mrs. Fremus/Mrs. Warren/Clara
Mrs. Fremus, a widow who lives next door; Mrs. Warren, a new neighbor; Clara, Sheila's mentally disabled friend. Note: The three parts above are played by one actress.
Mr. Hodges/Mr. Corbin/Senator Clark
Mr. Hodges, Barry's golf student whose patience only goes so far; Mr. Corbin, the movie theater manager; Senator Clark, a dignified public servant. Note: The three parts above are played by one actor.
Expanded Character Description for select roles:
Arnold Wiggins: He is the first character whom the audience meets. Arnold exhibits several OCD traits. He is the most articulate of the group. More than the other roommates, he tries to function in the outside world, but sadly many people take advantage of him. This occurs in the first scene when Arnold has returned from the market. He asks the grocer how many boxes of Wheaties he should purchase. The clerk cruelly suggests that Arnold buy seventeen boxes, so he does. Whenever he is dissatisfied with his life, he declares that he will be moving to Russia. And in Act Two, he actually runs away, hoping to catch the next train to Moscow.
Norman Bulansky: He's the romantic of the group. Norman works part-time at the doughnut shop, and because of all the free donuts he has gained a lot of weight. This worries him because his love-interest, a mentally handicapped woman named Sheila, thinks that he is fat. Twice during the play, Norman meets Sheila at a community center dance. With each encounter, Norman becomes bolder until he asks her on a date (although he doesn't call it a date). Their only real conflict: Sheila wants his set of keys (which don't unlock anything in particular), but Norman won't give them up.
Barry Klemper: The most aggressive of the group, Barry spends most of his time boasting about being a Golf Pro (although he does not yet own a set of clubs). At times, Barry seems to fit in with the rest of society. For example, when he puts up a sign-up sheet for golf lessons, four people sign up. But as the lessons continue, his pupils realize that Barry is out of touch with reality, and they abandon his class. Throughout the play, Barry waxes on about the wonderful qualities of his father. However, towards the end of Act Two, his Dad stops by for his first-ever visit, and the audience witnesses the brutal verbal and physical abuse that obviously worsens Barry's already fragile condition.
Lucien P. Smith: The character with the severest case of mental disability among the four men, Lucien is the most child-like of the group. His verbal capacity is limited, like that of a four-year old. And yet, he has been summoned before the Health and Human Services Subcommittee because the board might suspend Lucien's Social Security benefits. During this panel discussion, as Lucien incoherently talks about his Spiderman tie and stumbles through his ABCs, the actor playing Lucien stands and delivers a powerful monologue that eloquently speaks for Lucien and others with mental impairments.
LUCIEN: I stand before you, a middle-aged man in an uncomfortable suit, a man whose capacity for rational thought is somewhere between a five-year-old and an oyster. (Pause.) I am retarded. I am damaged. I am sick inside from so many hours and days and months and years of confusion, utter and profound confusion.
It is perhaps the most powerful moment of the play.
"THE BOYS NEXT DOOR is one of the most unusual…and one of the most rewarding plays in town." —BackStage.
"Griffin's play hits squarely on the truth of life with its constant interplays and shadings of triumphs and tears." —NY Daily News.
"THE BOYS NEXT DOOR moves the audience to an awareness of how many things in everyday life we take for granted…"
Theatre Location for Auditions
St. Peters Cultural Arts Centre
One St. Peters Centre Blvd.
St. Peters, MO 63376
Performing Arts Theatre is in the City Hall building, Western(far right) most building at the opposite end from the Rec-Plex. Act Two Theatre performs in St. Peters to one of the largest average audiences of local St. Louis area theatre companies. Each show runs 6-8 performances with attendance numbers ranging between 1000-1800 per run. Act Two's loyal, large and enthusiastic season ticket subscriber base allows many to receive the gift, joy and magic of live theatre that our talented actors, directors, tech crew and volunteers create.
---
Act Two Theatre 
2017 Audition Dates

Little Shop of Horrors:  August 20, 22 and/or 24. (Exact Dates for auditions and callbacks TBD.)
---
About Act Two Theatre:
2017 marks Act Two Theatre's 24th season. We are proud to present another year of high-quality theatre in St. Peters, Missouri. We are located in the beautiful 318-seat Performing Arts Theater at the St. Peters City Hall Cultural Arts Centre, adjacent to the Rec-Plex. The theater has comfortable seating and a terrific stage!
Act Two Theatre performs to one of the largest average audiences as compared to other local St. Louis area theatre companies. Except for the Muny and Stages no other professional, regional or community theatre company boasts a larger following.  Act Two's loyal, large and enthusiastic season ticket subscriber base allows many to share in the joy and magic of live theatre that our talented actors, directors, tech crew and volunteers create.