Odd Couple (Female Version)
May 11, 12, 13, 15, 18, 19, 20, 22.
Auditions: Feb. 23 & 25
Act Two Theatre announces Open Auditions for The Odd Couple (Female Version) by Neil Simon. Directed by Kasey Cox.
Auditions: February 23 & 25 from 6:30pm-8:30pm
Callbacks: February 28 from 1-3pm
6 Female and 2 Male. All parts are available.
The 8 Performance dates are May 11, 12, 13, 15, 18, 19, 20 and 22. Rehearsals will take place on Tuesday and Thursday evenings and Sunday afternoons.
Auditions will consist of a 1 minute farcical monologue.
Callbacks will consist of cold readings from the script.
Please arrive as early as 6:15pm or as late as 8:15pm to audition. Bring a resume and a list of any conflict dates. Bring a headshot(optional), if available. No appointment necessary. This is an open call.
St. Peters Cultural Arts Centre
One St. Peters Centre Blvd.
St. Peters, MO 63376
Performing Arts Theatre is in the City Hall building, Western(far right) most building at the opposite end from the Rec-Plex.
Act Two Theatre performs in St. Peters to one of the largest average audiences of local St. Louis area theatre companies. Each show runs 6-8 performances with attendance numbers ranging between 1000-1800 per run. Act Two's loyal, large and enthusiastic season ticket subscriber base allows many to receive the gift, joy and magic of live theatre that our talented actors, directors, tech crew and volunteers create.
ADDITIONAL INFO:
The Odd Couple (Female Version)
Unger and Madison are at it again! Florence Unger and Olive Madison, that is, in Neil Simon's hilarious contemporary comic classic: the female version of The Odd Couple. Instead of the poker party that begins the original version, Ms. Madison has invited the girls over for an evening of Trivial Pursuit. The Pidgeon sisters have been replaced by the two Costazuela brothers. But the hilarity remains the same.
Produced by special arrangement with Samuel French, Inc.
CHARACTER DESCRIPTIONS. 6 Females and 2 Males needed. ALL PARTS ARE AVAILABLE.
Olive Madison – A successful television producer. She is intelligent, attractive, and wisecracking, with a good sense of humor – and she's a complete slob when it comes to her surroundings. She has an encyclopedic understanding of sports, is a complete pushover for her ex-husband, and a good friend.
Florence (Flo) Unger – is attractive, very well groomed, neat and has just broken up with her husband. She takes herself very seriously, likes to clean, decorate and cook and is very good at all three. Flo is also intelligent warm-hearted (in her own way), and has no sense of humor (at least about herself) – she does NOT make jokes. She can also, without meaning to, make Olive feel guilty.
Sylvie – is desperately trying to stop smoking, and so sucks on lollipops or chews gum. She can get irritated with her friends, but has a good sense of humor, especially about her husband. Oh, yes, she is pregnant in the last scene.
Renee – Sylvie's best friend, can be very plain-spoken, especially when she points out Olive's failings as a hostess – and then Flo's. She is single and dating a doctor.
Vera – is very sweet, very nice, somewhat spacey, and, although quite smart, is often a step or two behind her friends. She's very funny, but doesn't realize it. Vera is married to Harry.
Mickey – is a police officer, who is down-to-earth, plain talking, and has a good understanding of people. Sometimes she can take the "police bit" too far and she tries very hard to be in control of all situations.
Manolo Costazuela – is handsome, very well groomed, and Spanish with a Castilian accent. He is every woman's dreamdate and showers both Olive and Flo with attention. He must have good comic timing, as he gets VERY emotional. He is sensitive and appreciates Florence's sensitivity.
Jesus Costazuela – is Manolo's younger brother – also very handsome, well-groomed, excellent posture, very romantic – and he also gets very emotional, and truly appreciates Florence.
——–
---
NOW IN REHEARSALS!  Show opens February 12.
Act Two Theatre is excited and P-R-O-U-D to announce the cast of The 25th Annual County Spelling Bee that opens our 2016 Season of hilarious comedies and farces. Director Andrew Kuhlman has put on the stage of this fun musical some of our area's very best talent. BEE-utiful!
Chip Tolentino – Colin Dowd
Logainne Schwartzandgrunenierre (Schwartzy) – Alex Dyer
Leaf Coneybear – Kurtis Heinrich
William Barfee – Nathan Hinds
Marcy Park – Grace Langford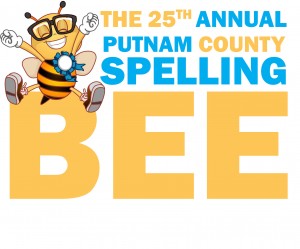 Olive Ostrovsky – Lindsay Gingrich
Rona Lisa Peretti – Theresa Hermann
Douglas Panch – Michael Barrows Fitzgerald
Mitch Mahoney – Ryan Wood
The 25th Annual Putnam County Spelling Bee.
Feb. 12, 13, 14, 19, 20, 21.
—–
Act Two Theatre Proudly Announces Auditions for:
THE 25TH ANNUAL PUTNAM COUNTY SPELLING BEE
Music and Lyrics by William Finn
Book by Rachel Sheinkin
Conceived by Rebecca Feldman
Additional Material by Jay Reiss
and Act Two is honored to announce that this show will be
Directed by ANDREW KUHLMAN
WHAT: 9 Characters – 5 male, 4 female. All parts available.
WHEN: Monday, November 23 and Tuesday, November 24 with audition time slots starting at 7pm each evening.
(Performance Dates are February 12, 13, 14, 19, 20, 21)
WHERE:St. Peters Cultural Arts Centre – One St. Peters Centre Blvd. St. Peters, MO 63376-Performing Arts Theatre
Auditions are by appointment only and will consist of a 32 measure cut from a comedic Broadway song of your choice. An accompanist will be provided. Auditions will be done in groups of six and will last approximately 15-20 minutes per group.
To request an audition please send an email to: info@acttwotheatre.com. Please indicate which date you would prefer and put the following in the SUBJECT of your email: "YOUR NAME-SPELLING BEE AUDITION REQUEST"
Play Description: An eclectic group of six mid-pubescents vie for the spelling championship of a lifetime.  While candidly disclosing hilarious and touching stories from their home life, the tweens spell their way through a series of [potentially made-up] words hoping to never hear the soul-crushing, pout-inducing, life un-affirming "ding" of the bell that signals a spelling mistake. Six spellers enter; one speller leaves!
Character Descriptions + Solos
Please Note: Most cast members sing in ensemble musical numbers, although all of these musical numbers are NOT included below. 
The Girl Spellers:
LOGAINNE SCHWARTZANDGRUNENIERRE: At ten years old, Logainne is the youngest and most politically-aware speller, often making comments about current political figures. "SCHWARTZY" is driven by internal and external pressure, but above all by a desire to win to make her two fathers proud. She is somewhat of a neat freak, speaks with a lisp, and will be back next year. Sings "Woe is Me" and Reprise
MARCY PARK: A recent transfer from Virginia, Marcy placed ninth in last year's nationals. She speaks six languages, is a member of all-American hockey, a championship rugby player, plays Chopin and Mozart on multiple instruments, sleeps only three hours a night, hides in the bathroom cabinet, and is getting very tired of always winning. She is the poster child for the OverAchiever, and attends a Catholic school called "Our Lady of Intermittent Sorrows." She is also not allowed to cry. Sings "I Speak Six Languages"
OLIVE OSTROVSKY: A newcomer to competitive spelling. Her mother is in an ashram in India, and her father is working late, as usual, but he is trying to come sometime during the bee. Having found comfort in its words and vastness, Olive made friends with her dictionary at a very young age, helping her to make it to the competition. She starts enormously shy, and shyly blossoms. Sings "My Friend The Dictionary" Sings "The I Love You Song" Sings "Second"
The Boy Spellers:
CHIP TOLENTINO: An athletic and social Boy Scout and champion of the Twenty-Fourth Annual Putnam County Spelling Bee, he returns to defend his title, but he finds puberty hitting at an inopportune moment.  "Pandemonium" and  "My Unfortunate Distraction"
LEAF CONEYBEAR: The second runner-up in his district, Leaf gets into the competition on a lark and finds everything about the bee incredibly amusing. He is home-schooled and comes from a large family of former hippies. He has severe Attention Deficit Disorder and spells words correctly while in a trance. Sings "I'm not that smart" and Reprise
WILLIAM BARFEE: A Putnam County Spelling Bee finalist last year, he was eliminated because of an allergic reaction to peanuts and is back for vindication.  His famous "Magic Foot" method of spelling has boosted him to spelling glory, even though he only has one working nostril and a touchy, bullying personality. He develops a crush on Olive. Sings "Magic Foot".  and "Second"
The Grown-Ups:
RONA LISA PERETTI: The number-one realtor in Putnam County, a former Putnam County Spelling Bee Champion herself, and the returning moderator. She is a sweet woman who loves children. Her interest in the competition is unflagging and drives it forward. Sings "Rona Moments"
MITCH or MADGE MAHONEY: The Official Comfort Counselor. An ex-convict, Mitch/Madge is performing community service with the Bee, and hands out juice boxes to losing students. He/She has no idea how to offer comfort, but does find him/herself wishing he/she could find a way to make the kids feel better. Sings "Prayer of the Comfort Counselor"
DOUGLAS PANCH: The Vice Principal of Putnam Middle School. Frustrated with his life, he finds the drive of the young spellers alien to him. After five years' absence from the Bee, Panch returns as judge. There was an "incident" at the Twentieth Annual Bee, but he claims to be in "a better place" now, thanks to a high-fiber diet and Jungian analysis. Sings only in ensemble musical numbers.
---
2016 Act Two Theatre Season
Show and Audition Dates
The 25th Annual Putnam County Spelling Bee.
Feb. 12, 13, 14, 19, 20, 21.
Auditions: Nov. 23 & 24
Odd Couple (Female Version)
May 11, 12, 13, 15, 18, 19, 20, 22.
Auditions: Feb. 23 & 25
Moon Over Buffalo
August 3, 4, 5, 7, 10, 11, 12, 14.
Auditions: May 24 & 26
Nuncrackers: The Nunsense Christmas Musical
Nov. 4, 5, 6, 11, 12, 13
Auditions: Aug. 16 & 18
About Act Two Theatre:
Next year will mark Act Two Theatre's 23rd season. For 2016, we are proud to present another year of high-quality theatre in St. Peters, Missouri. We are located in the beautiful 318-seat Performing Arts Theater at the St. Peters City Hall Cultural Arts Centre, adjacent to the Rec-Plex. The theater has comfortable seating and a terrific stage!
Act Two Theatre performs to one of the largest average audiences as compared to other local St. Louis area theatre companies. Except for the Muny and Stages no other professional, regional or community theatre company boasts a larger following.  Act Two's loyal, large and enthusiastic season ticket subscriber base allows many to share in the joy and magic of live theatre that our talented actors, directors, tech crew and volunteers create.