Act Two Theatre could not exist without financial support from its generous Star Supporters! Be sure to contribute today and your name will appear below and in every show program for the entire 2021 season. You will also get all the benefits that come from being a Star Supporter.
Our Star Supporters for 2021 as of Nov. 3 are: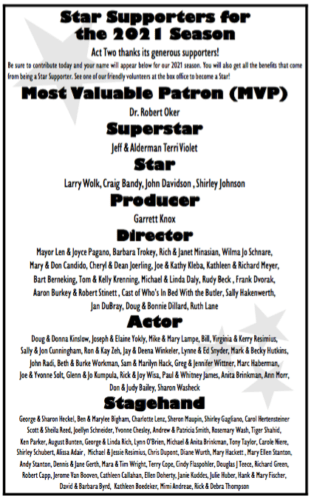 Act Two Theatre would like to reward YOU, our patrons, with STAR Treatment—Support of Theater Audience Rewards. Any donation you give earns you special recognition throughout the year!  Your NAME is prominently displayed on our Supporter Program Board in the lobby of the theater. In addition, we acknowledge and reward our donors throughout the season at each performance. Come see a show and you'll see what we mean! We'll continue to think of ways to express our gratitude and appreciation for your efforts in supporting us and this wonderful art form we call Live Theater!
As a Non-Profit 501(c)(3) organization your donation to Act Two Theatre is also tax-deductible.
Won't you please make your contribution? You get extra special treatment as a STAR, including backstage tours, an invitation to dress rehearsals, and free tickets. Choose the STAR level you wish to participate in. For your convenience, you can make donations through PayPal. Whether your gift is $20 or up to $500, or even more, you give back to audiences who want to see Act Two remain an all-volunteer organization, dedicated to enriching the education and love of theater and the performing arts!
Remember, when you're a STAR at Act Two Theatre, you shine!!!!
STAGEHAND-$20
Name in Show Program for the entire season
ACTOR-$50
Name in Show Program for the entire season
Name on Lobby Sign
DIRECTOR-$100
Name in Show Program for the entire season
Name on Lobby Sign
Guided Backstage Tour
Plus 2 Free General Admission Tickets to any show
PRODUCER-$250
Name in Show Program for the entire season
Name on Lobby Sign
Guided Backstage Tour
Invitation to the Dress Rehearsal for all 4 shows
Plus 4 Free General Admission Tickets to any show
STAR-$500
Name in Show Program for the entire season
Name on Lobby Sign
Guided Backstage Tour
Invitation to the Dress Rehearsal for all 4 shows
Name or Company Logo on our website
Plus 8 Free General Admission Tickets to any show