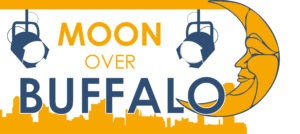 August 3*, 4, 5, 7, 10*, 11, 12 and 14.
By Ken Ludwig
Directed by Justin Spurgeon

New for 2016. 8 performances for this show. Wednesday and Thursday evening shows have been added. Evening shows begin at 7:30 pm. Sunday Matinees begin at 2pm. (There are no Saturday Evening performances for this particular show.)
*Senior Special Shows: Our Wonderful Wednesday performances are August 3 and 10.
*Our Deaf Night at the Theatre performances are August 3 and 10.
In the madcap comedy tradition of Lend me a Tenor, the hilarious Moon Over Buffalo centers on George and Charlotte Hay, fading stars of the 1950's. At the moment, they're playing Private Lives and Cyrano De Bergerac in rep in Buffalo, New York with 5 actors. On the brink of a disast…rous split-up caused by George's dalliance with a young ingénue, they receive word that they might just have one last shot at stardom: Frank Capra is coming to town to see their matinee, and if likes what he sees, he might cast them in his movie remake of The Scarlet Pimpernel. Unfortunately for George and Charlotte, everything that could go wrong does go wrong, abetted by a visit from their daughter's clueless fiancé and hilarious uncertainty about which play they're actually performing, caused by Charlotte's deaf old stage-manager mother who hates every bone in George's body!
Produced by special arrangement with Samuel French, Inc.
Act Two Theatre is proud to announce the cast of Moon Over Buffalo:
George – Todd Micali
Charlotte – Jessica Moore
Rosalind – Cori Nelson
Paul – Tristan Ratterman
Ethel – Linda Daly
Howard – Sean Seifert
Richard – Anthony Jones
Eileen – Laura Gibbons
Justin Spurgeon – Director
Christina Richardson – Assistant Director
Brendan O'Brien – Stage Manager
Montana Conway – Assistant Stage Manager
Art Zemon – Tech Coordinator
Brian Borgstede – Sound
Chase Coates – Lights
Jean Heckmann – Costumes
Megan Scott – Costumes Assistant
Quen Tibbs – Props and Set Dressings
Jeff David – Set Design
Chris Speth – Master Carpenter
Jacki Goodall – Scenic Designer
Chris Ferguson – Fight Choreographer
Chris Resimius – Weapons Master
Scott Theis – Stagehand
Deaf Night at the Theatre
Interpreter Coordinator-Nancy Lubowitz
Interpreters………Nancy Lubowitz and Michelle Henley