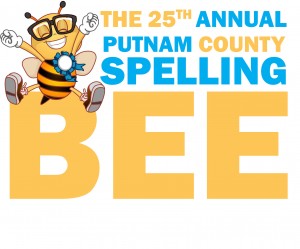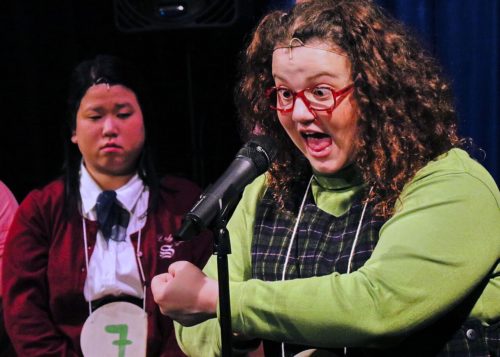 The 25th Annual Putnam County Spelling Bee
Music & Lyrics by William Finn
Book By Rachel Sheinkin
Directed by Andrew Kuhlman
Feb. 12, 13, 14, 19, 20, 21.
Friday and Saturday shows begin at 7:30 pm.  Sunday Matinees begin at 2pm.
Our Deaf Night at the Theatre is Feb. 20 at 7:30 pm.
Six awkward spelling champions learn that winning (and losing) isn't everything. Winner of the TONY and the Drama Desk Awards for Best Book, The 25th Annual Putnam County Spelling Bee has charmed audiences across the country with its effortless wit and humor. Featuring a fast-paced wildly funny and touching book by Rachel Sheinkin and a truly fresh and vibrant score by William Finn, this bee is one unforgettable experience.
An eclectic group of six mid-pubescents vie for the spelling championship of a lifetime. While candidly disclosing hilarious and touching stories from their home life, the tweens spell their way through a series of [potentially made-up] words hoping to never hear the soul-crushing, pout-inducing, life un-affirming "ding" of the bell that signals a spelling mistake. Six spellers enter; one speller leaves! At least the losers get a juice box.
The 25th Annual Putnam County Spelling Bee is presented through special arrangement with Music Theatre International (MTI).
Act Two is excited and P-R-O-U-D to announce the cast of The 25th Annual County Spelling Bee that opens our 2016 Season of hilarious comedies and farces. Director Andrew Kuhlman has put on the stage of this fun musical some of our area's very best talent. BEE-utiful!
Chip Tolentino – Colin Dowd
Logainne Schwartzandgrunenierre (Schwartzy) – Alex Dyer
Leaf Coneybear – Kurtis Heinrich
William Barfee – Nathan Hinds
Marcy Park – Grace Langford
Olive Ostrovsky – Lindsay Gingrich
Rona Lisa Peretti – Theresa Hermann
Douglas Panch – Michael Barrows Fitzgerald
Mitch Mahoney – Ryan Wood
Music & Lyrics by William Finn. Book By Rachel Sheinkin
Conceived by Rebecca Feldman
Additional Material by Jay Reiss
Originally Directed on Broadway by James Lapine
Originally produced on Broadway by David Stone, James L. Nederlander, Barbara Whitman, Patrick Catullo Barrington Stage Company, Second Stage Theatre
Based upon C-R-E-P-U-S-C-U-L-E, an original play by The Farm.
The Barrington Stage Company workshop of THE 25TH PUTNAM COUNTY SPELLING BEE was originally co-directed by Michael Barakiva and Rebecca Feldman
The Farm was founded in 2000 by Rebecca Feldman, Artistic Director. It is a collective of writers and performers, including Jay Reiss, Dan Fogler, and Sarah Saltzberg. The Farm's interest is in the role of improvisation in creating new work for the theatre. The Farm initially designates a two-week intensive period in which to discover, develop, and rehearse a play from the impulses borne mainly out of the pressure of a deadline. Previous projects include "Super" (at Atlantic Theatre Studios), "Why I Hate Florida" (workshop at White Wave in DUMBO) and "C-R-E-P-U-S-C-U-L-E" (at the Present Company Theatorium in October 2002), on which "The 25th Annual Putnam County Spelling Bee" is based. The character and original dialogue of "Beth Marguiles," "Vice President Douglas Panch," "Mr. Barfee," and "Logan Schwarzengrubenierre" were created by Rebecca Feldman, Jay Reiss, Dan Fogler, and Sarah Saltzberg, respectively.