ACT TWO THEATRE HAS RESERVED SEATING FOR ALL SHOWS.
Enjoy quality theatre from your comfy seat.
We offer reserved seating for all performances.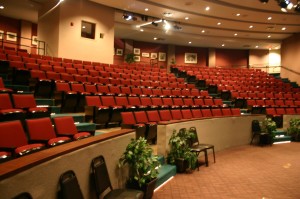 ---
Act Two Theatre's Show Times
All evening performances begin at 7:30pm.  All Sunday matinees begin at 2:00 pm.
Reserved Seating Prices
Adults: $20
Students and Seniors: $16
Group Sales (12 or more): $14
ALL Performance are at our beautiful Performing Arts Theatre at:
1 St. Peters Centre Blvd. St. Peters, MO 63376 (Directions)
Buy Tickets
Purchase Arsenic and Old Lace Tickets Online Now
To purchase individual tickets: Please call 1-800-838-3006 or visit brownpapertickets.com. Our show pages have links to their specific events for purchasing tickets to each show.
Group Sales: 
* Groups must consist of at least 12 people.
* To reserve your group, please contact Brown Paper Tickets by calling 1-800-838-3006 or by visiting their website at brownpapertickets.com. Our show pages have links to their specific events for purchasing tickets to those shows.
* If reserving your Group tickets online at brownpapertickets.com, you will need to enter the password "Group" at the opening screen to start purchasing tickets. (The system knows to allow no less than 12 tickets with this password.)
Comp Tickets: These will be treated the same as cash at the door. We cannot reserve seats for comp tickets. Please bring your vouchers to the Box Office the day you are interested in attending a show.
Box Office: Box Office opens one hour prior to show time. Tickets at the Box Office are only for that day's performance. We accept cash, check, and credit cards.
NOTE: We do not have a local box office and no tickets are available at the theatre or city hall until one hour before showtime. Ordering online or by using the toll-free number is easy and secure.
Season Tickets: Available through the close of our first show of the 2020 season, reserve your own personal seat for the entire season at just $14 a ticket for a total package price of $56. This is available at the Box Office through the entire run of our first show of the 2020 Season. There are special incentives that include free tickets for our season tickets holders at SCC's Center Stage Theatre, MBU Theatre, and Lindenwood University. Click to view complete info below regarding our 2020 Spectacular Season Ticket offer.
If you have any other ticketing questions or need to reach us for any non-ticket matter, please call 636-219-0150.
To place your order for Season Tickets, please download the order form here, 2020 Season Ticket Brochure and email or mail in your order. Call 636-219-0150 with any questions. 
---
Our MAILING Address:
Act Two Theatre-PO BOX 961-St. Peters, MO 63376
The THEATRE Address:
1 St. Peters Centre Blvd.
St. Peters, MO 63376