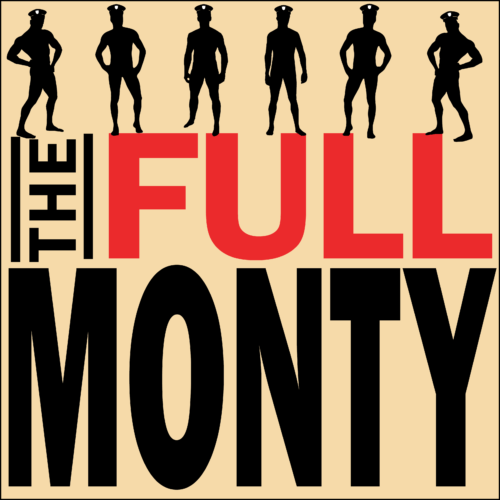 The Full Monty
Book by Terrence McNally
Music & Lyrics by David Yazbek
Directed by Paul James and Becky Loughridge
Musical Direction by Derick Featherston

PURCHASE TICKETS

November 4, 5, 6*, 11, 12 & 13*
Evening shows begin at 7:30pm
*Sunday Matinees begin at 2:00pm
**Mild PG-Rating. Parental guidance suggested.**

All Season Ticket Holders were sent their ticket confirmations via email on September 9. If you have not received or cannot locate, please email info@acttwotheatre.com and we will re-send.

PURCHASE TICKETS
Based on the Smash-Hit comedy film of the same name, The Full Monty, a ten-time Tony Award nominee, is filled with honest affection, engaging melodies and the most highly anticipated closing number of any show. While spying on their wives at a "Girls' Night Out," a group of unemployed steelworkers from Buffalo sees how much their wives and girlfriends enjoy watching male strippers. Jealous, out of work and feeling emasculated, the men come up with a bold way to make some quick cash. The Full Monty is a story full of heart. Right to the end, audiences will be wondering if these lovable misfits will really pull it off. With a raucous mix of razor-sharp humor and toe-tapping pizzazz, this heartwarming, upbeat comedy will be the comedy hit of our season!
Produced through special arrangement with Music Theatre International (MTI)
Act Two Theatre is thrilled to announce the talented Cast of The Full Monty:
Jerry Lukowski: John Emery
Pam Lukowski: Emily Rene
Nathan Lukowski: Johann Uhl
Dave Bukatinski: Chandler Spradling
Georgie Bukatinski: Sage Russell
Harold Nichols: Andrew Feigenbaum
Vicki Nichols: Theresa Nigus
Noah (Horse) T. Simmons: Terrell Thompson
Malcolm Macgregor: Nathan Hakenwerth
Ethan Girard: Shane Rudolph
Jeanette Burmeister: Laura Deveney
Buddy "Keno" Walsh, Repo Man & Others: Todd Micali
Estelle Genovese: Benni Jillette
Reg Willoughby, Police Sergeant & Others: Jim Dishian
Teddy Slaughter & Gary: Evan Fornachon
Susan Hershey: Cara Faries
Joanie Lish: Emma Vinson
Marty, Repo Man & Others: Kevin Reynolds
Molly Macgregor, Betty & Others: Leigh Irvin
Tony G, Minister, Bouncer & Others: Joel Irvin


Brown Paper Tickets Ticket Widget Loading…

Click Here to visit the Brown Paper Tickets event page.