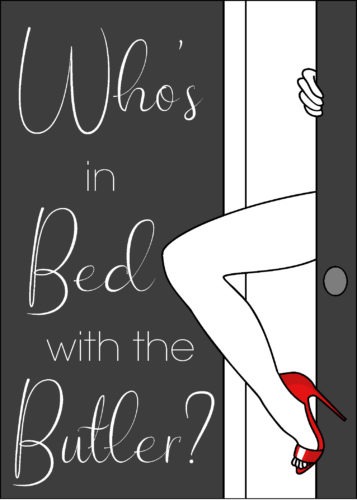 February 7, 8, 9* & 14, 15, 16*
Evening shows begin at 7:30pm
*Sunday Matinees begin at 2:00pm
Who's In Bed With The Butler?
Written by Michael Parker
Directed by Paul James

Purchase Tickets Now

Season Tickets, including this show, are now on sale. More Info

Online Tickets for this show will be available in December.
A California billionaire has bequeathed all of his assets to his only daughter, Constance – except the $22 million yacht he wanted Josephine to have, a $25 million art collection left to Renee, and some priceless antique automobiles willed to Marjorie. Constancearrives at her father's mansion with her lawyer,determined to find out who these women are and to buy them off or contest the will. The butler seems to hold the key, and she learns from him that the threesultry ladies were her father's lovers.

Purchase Tickets Now

Act Two Theatre is proud to announce the amazingly talented cast of Who's in Bed With The Butler?:

Clifton: Travis Pfeifer
Susie: Patricia Nelke
Connie: Laura Deveney
Vance: Jeff Lovell
Davis: Todd Micali
Agnes: Linda Daly
Josephine: Marisa Puller
Renee: Marisa Puller
Marjorie: Marisa Puller

Produced through special arrangement with Samuel French