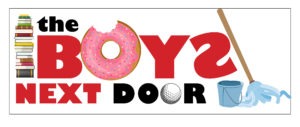 Performance dates are August 2, 3, 4, 6 & 9, 10, 11, 13
Evening shows begin at 7:30 pm. Sunday Matinees begin at 2pm.
Directed by Jeff David
By Tom Griffin
The place is a communal residence in a New England city, where four mentally handicapped men live under the supervision of a young social worker. Mingled with scenes from the daily lives of these four, where "little things" sometimes become momentous (and often very funny), are moments of great poignancy when, with touching effectiveness, we are reminded that the handicapped, like the rest of us, want only to love and laugh and find some meaning and purpose in the brief time that they, like their more fortunate brothers, are allotted on this earth.
Act Two Theatre is proud to announce the cast of The Boys Next Door.
Arnold – Aaron Mermelstein
Norman – William Blanke Jr.
Lucien – Erick Lindsey
Barry – Joshua Mundschenk
Jack – Hayden Hays
Sheila – Becky David
Mr. Klemper – Kurt Knoedelseder
Mrs. Warren/Mrs. Fremus/Clara – Gabrielle Rivera
Mr. Hedges/Mr. Corbin/Senator Clarke – Tim Naegelin
Produced by special arrangement with Dramatists Play Service, Inc.