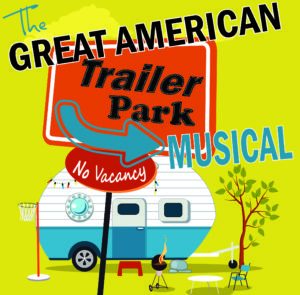 August 8, 9, 10, 12 & 15, 16, 17, 19
Evening shows begin at 7:30 pm. Sunday Matinees begin at 2pm.
Music & Lyrics by David Nehls
Book by Betsy Kelso
Directed by Brooke Viegut
Musical Direction by Karla Curry
A country-rock and blues musical about agoraphobia, adultery, '80s nostalgia, spray cheese, road kill, hysterical pregnancy, a broken electric chair, kleptomania, strippers, flan, and disco, The Great American Trailer Park Musical centers around regular guy Norbert and his agoraphobic wife, Jeannie, whose marriage is threatened by Armadillo Acres' newcomer, the hot young stripper Pippi. The trailer park also plays home to a Greek-chorus-like trio of women Linoleum, Betty and Pickles, each dysfunctional in her own right.
(PG-13-Some Adult situations and language)
Produced through special arrangement with Dramatists Play Service
Act Two Theatre is thrilled to announce the cast of The Great American Trailer Park Musical directed by Brooke Viegut and with musical direction by Karla Curry opening August 8:
Betty – Theresa Peters Nigus
Lin – Laura Deveney
Pickles –  Abby Cockerham
Jeannie – Dana Wachtel
Norbert – Jeffrey Pruett
Pippi – Katy Gilda-Fry
Duke – Jack Theiling